Bed & Breakfast and Restaurant
71 E. Buffalo St. (Rte. 20A)
Warsaw NY 14569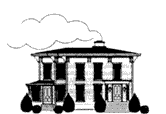 History
The Valley Inn occupies a Civil War era home built in 1861. It was constructed as a wedding gift by Theron Main for his son James and his new wife.

There have been several children born in the house, the first being Edith Main in 1866. Edith later inherited the house and lived there with her merchant husband, James Reid. She gave birth to three sons, James, Jr., and twins, Lawrence and Louis. On the day the twins were born in 1887, the artesian well on the east side of the house burst forth. It continues to flow today.

The home remained in private hands until 1937. In that year, The Texaco Company purchased the property, selling the quarter acre lot on which the house stood, to Mrs. Bessie Perry. Mrs. Perry opened a Tearoom on the first floor, thus beginning the commercial history of the Valley Inn.

The restaurant/inn changed hands several times until 1952, when Mrs. Helen Atkins began the solo operation of Valley Inn. Mrs. Atkins continued to successfully run the inn for the next forty-six years until her retirement in October, 1998.

Under her management, the Valley Inn hosted ambassadors, senators, and guests from England, France, Italy and Canada. The Valley Inn became a Warsaw landmark with residents within a fifty-mile radius making it their choice for special occasions and celebrations, as well as a place to meet friends and enjoy a good meal in an historic home.

After closing its doors in October 1998, the future of the Valley Inn remained in doubt until January of 1999, when Gainesville native, Richard "Buzz" Bailey, purchased the property. An award-winning chef for the past eighteen years, Mr. Bailey had long planned the opening of his own restaurant. When he learned that the property was available, he made the decision to return home and move the Valley Inn into a new direction of excellence.

With a complete renovation of the dining rooms and kitchen, the Valley Inn began its sixty-first year of operation on Mother's Day, May 9, 1999. The Valley Inn Restaurant offers an upscale dinning experience which guests will find unparalleled in the Warsaw area. Mr. Bailey's culinary expertise began in the US Navy as personal chef to three admirals. After discharge, he was employed as a chef at Nashville's famed Opryland Hotel and the Five-Star Stouffer Waverly Hotel in Atlanta, Georgia. Returning to Nashville, he was named the Executive Chef at First American National Bank's Executive Dinning Room. Before coming home to New York, Mr. Bailey was the Executive Chef at Nashville's Sheraton Music City Hotel which has been named as one of the Top One Hundred Hotels in the United States for the past seven years.

Accommodations

The Valley Inn offers limited accommodations for overnight guests. At the present time there are three guest rooms available with a fourth room to be added in the future. While future plans call for a complete renovation of the second floor guest rooms, the three rooms now available, are clean and comfortable and ready for occupancy.
The West Room - Double bed with sitting area.
The East Room - Queen bed with sitting area and half bath
The South Room - Single bed with sitting area

All rooms share a common bath featuring an antique soaking tub as well as a separate shower. The large Commons Room available to overnight guests includes a 48" screen television with VCR and a stereo with a large selection of music. A continental breakfast is included for all overnight guests.

Call for rates at (716)786-3820 or via
at ValleyInNY@aol.com
A minimum one week advance reservation for rooms is strongly suggested. However, please feel free to call at any time, and we will do our best to meet your needs. A credit card guarantee is required for reservations with a $25 cancellation fee if notice is given less than seven days before arrival.

Chef Bailey welcomes you to the new Valley Inn and hopes you will enjoy your meal and become a frequent guest when you are visiting Western New York .

Designed by Yoli Arroniz-Vrooman & Scott Vrooman .